Retinitis Pigmentosa:
Retinitis Pigmentosa: "I've been seeking out specialized acupuncture for my Retinitis Pigmentosa for the past three years, traveling across the country to access quality treatment. Now, thanks to Lee, I've found the answer I've been looking for. Lee combines intensive micro acupuncture and electro-acupuncture methods with constitutional-based acupuncture that focuses on underlying issues and after only three days of treatment, my visual field tests showed improvement, as did both my far and near visual acuity. I'm convinced that with ongoing treatment with Lee, I'll be able to maintain my remaining eyesight and ALWAYS be able to see my husband and two daughters—which means everything to me." – Ingrid R.
As shown in the Fig. 1, the VF test results of Ingrid R.'s right eye before treatment on Nov. 2, 2105 and after treatment on Nov. 5, 2015: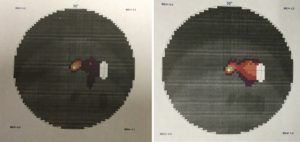 Retinitis Pigmentosa: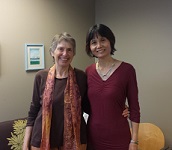 "I recently received five days of intensive acupuncture treatments for Retinitis Pigmentosa from Lee. It has been such a blessing to discover on the West Coast, such an accomplished, warm hearted and knowledgeable practitioner of TCM and the eye protocol treatments. I experienced improvements over the week in both my visual field and my acuity, as shown on tests. I feel that I am seeing the world more brightly, with sharper focus, and very importantly I have renewed confidence in walking around unassisted. Lee also did an excellent daily treatment to address my constitutional issues, which proved beneficial to my general health. " – Sahni (Ashland, OR)
As shown in the Fig. 2, the VF test results of Sahni's left eye before on 05/17/2016 and after treatment on 05/20/2016: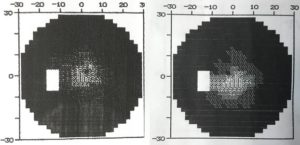 As shown in the Fig. 3, the VF test results of Sahni's right eye before on 05/17/2016 and after treatment on 05/20/2016: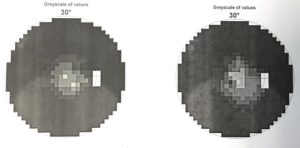 Retinitis Pigmentosa:"Lee Huang is a warm and capable acupuncture practitioner with a deep-seated understanding of healing. Not only does she have a solid handle on eye issues, she has an inherent grasp of how the eyes work in conjunction with the whole body – and how to treat the body in order to support healthy sight. Lee's Mercer Island office is a lovely oasis of calm; simple, tasteful and soothing. Her support staff is friendly, capable and efficient. I highly recommend Lee Huang as an eye-based acupuncturist in the Seattle area." – Jeanne A., Palo Alto, CA
Retinitis Pigmentosa:I have RP and have been receiving acupuncture to sustain my vision, but had to travel far.  I was so happy to learn of Able Acupuncture as it is so much more accessible.  After 4 days of intense treatment, I feel my vision is restored to where I was after my last treatments with the other clinic.  This gives me hope for the future that I can sustain my vision with the help of acupuncture and also renewed energy to improve my lifestyle with better nutrition and more exercises.  I'm very satisfied.  Lee's knowledge and skill is very apparent.  She has great empathy and compassion.  She is very personable and easy to talk to.  The clinic is comfortable and relaxing with soothing music and beautiful décor. – Susan Bowman, Seattle, WA
Retinal Tearing (Scar Tissue): "I went to Lee because of her experience both as an eye surgeon and as an acupuncturist. I had three surgeries for retinal tearing caused by recurrent scar tissue. Lee treated me with acupuncture and herbs and the scar tissue did not return. I found Lee to be kind, attentive, and thoroughly professional and I recommend her enthusiastically." -Donald S.
Macular Degeneration/Myopia: "Six months before renewing my driver's license which required an eye exam; I was diagnosed with PMD (preliminary macular degeneration) with existing mild cataracts and severe myopia. Dr. Huang was highly recommended by my retired acupuncturist. Dr. Huang reviewed my Ophthalmologist's photos and exam record. As a result I passed my driving test w/ flying colors. With the "Micro acupuncture"; I am still improving and continuing to see results in my vision. From my personal experience, I would highly recommend Dr Huang." –Doris
Macular Degeneration/Glaucoma: At age 89 my grandma was almost completely blind. The glaucoma and macular degeneration she'd lived with for years had reduced her vision to primitive shadows. Eye specialists had worked hard to stabilize her eye pressure but couldn't figure out why she'd lost so much sight or offer any hope of it returning. I was skeptical that acupuncture could help with vision and I didn't think she ought to be dragged to repeated appointments to be skewered. Thankful, more hopeful minds prevailed and we gave it a try. I could never have imagined such a turn around. Her traditional eye specialist was just as shocked. She can read again. She can watch tv. She can dress herself and see her food. Her life has been so dramatically improved. I am so grateful to Dr. Lee Huang for her warmth, smarts, and skill. After a weeks' worth of twice a day sessions my grandma's vision rebooted. Since then we've gone back every few months when it seems needed. Despite all the trips we've made my grandma sometimes forgets exactly what the acupuncturist is all about. So to explain our trips to Mercer Island, I just say, "We're going to the miracle worker!" – Bredan and Lyn (Seattle, WA) 2016
Eye Surgery Recovery: "I was fortunate to learn of Dr. Lee Huang's specialty focus of acupuncture for eye ailments and felt a great deal of confidence in her based on her experience as an ophthalmologist in China. My condition is a chronic erosion to my cornea that required surgery to alleviate. When I found Dr. Huang, I saw her for several visits before my surgery, and am now following up with her after my surgery. What is amazing is that my surgeon could not believe how quickly and effectively my eye healed, and he asked me to tell him more about my acupuncture experience. He even asked me to give him an annual update so he could track how my eye was doing in the long term (which he said he rarely does). I highly recommend Dr. Huang for her expertise and for her empathetic demeanor. I feel very well cared for in her hands." -Stephanie H., Seattle
Retinitis Pigmentosa:  "Lee Huang is a warm and capable acupuncture practitioner with a deep-seated understanding of healing. Not only does she have a solid handle on eye issues, she has an inherent grasp of how the eyes work in conjunction with the whole body – and how to treat the body in order to support healthy sight. Lee's Mercer Island office is a lovely oasis of calm; simple, tasteful and soothing. Her support staff is friendly, capable and efficient. I highly recommend Lee Huang as an eye-based acupuncturist in the Seattle area." –Jeanne A., Palo Alto, CA
Retinitis Pigmentosa:  "Jin started a week long fifteen treatments with Lee Huang. As shown in the Fig.4, the VF test showed her peripheral vision has tremendously increased. Test image is taken on Jin's Right Eye before on 12/15/2017 and after treatment on 12/22/2017.
" –Jin L., Seattle, WA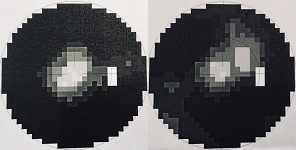 Back to Testimonials